Repeater Database
This site gives you FREE access to thousands of amateur and GMRS Repeaters.

Search by: Callsign, Zip code, Frequency etc

Select State

---
Artsci has been producing books for the Amateur radio community since 1989.
Our straight forward drawing and instructions make the most complicated aspects of amateur radio simple to understand.

Artsci started in 1978 as the first software producer for the Apple // computer.
In 1996 we started artsci.net, a full service Internet provider.

Click here for a history of Artsci

Here are some of artsci's programming history
Click here for Epson HX-20 Blackjack
---
Artsci Inc • POB 1428 • Burbank, CA 91507 •(818) 843-4080
---
Recommend US To Your Friends
Contact US
---
Repeater MapBook 2024-25
<!IMG SRC="/bookgifs/mapbook-24-25.jpg" border=0 height=165 width=105 align=left> <!IMG SRC="/bookgifs/mapbook-50.jpg" border=0 h!eight=165 wid!th=105 align=left> <!IMG SRC="/mapbook/comap2.jpg" border=0 height=105 width=165 ali!gn=left> The Repeater Mapbook 2024-2025 will be available in a few months. Order now to make sure you get your copy! When they ship early 2024. It contains locations of thousands upon thousands of open repeaters throughout the U.S., Canada and Mexico. These DETAILED maps show all highways and major cities in each state. A PERFECT travelling companion.

Including OPEN Business band repeaters.


Click Here to Order.

Join Now only $20 per Year
www.artscipub.com/repeaters
Sign up Now and get Both Print edition and on-line access for $30.00
Available Direct from Artsci
And from Your Favorite Ham Stores:
Ham Radio Outlet

---
Q-VIEW QSL Card Holders

Display your QSL cards for all to see. Our Q-VIEW QSL holders will display 40 QSL cards. Each package contains 2 wall display holder. Each wall display will hold 20 QSL cards.
$19.95 for the set of 2
Click here for US Card Holders.

Click here for INTERNATIONAL Card Holders.
<!img src="/bookgifs/qviewholder.gif">


---
---
---
• Reference Pages by N6MQS
• Simpleton's Guides
•HHH 40 Meter Club
• Amateur Manufactures Database
---
3D Printed Call Sign Plaques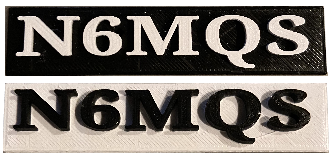 Get your Call sign (or other message) 3D printed on a plaque using White Letters on a Black Background. The Height is approx 13/16th Inches. The width varies from 3.5 - 6.5 inches, depending on quantity of letters (up to 12). Its 3/16 deep. Get an additional plaque using Black Letters on a White Background for a reduced Price (When you order the White on Black).
---
CUSTOM QSL Cards
Also, Custom State Blow-up available for ALL states.
Here are some samples: AL, AZ, CA, CT, FL, GA, HI, IL, IN, KY, MA, MI, NE, NC, MN, ND, NV, NY, OH, OK, PA, TN, TX, VA, WA,
---
---
• Reference Pages by N6MQS
• Simpleton's Guides
•HHH 40 Meter Club

---